WOLSELEY 1500 & RILEY 1.5 CATALOGUE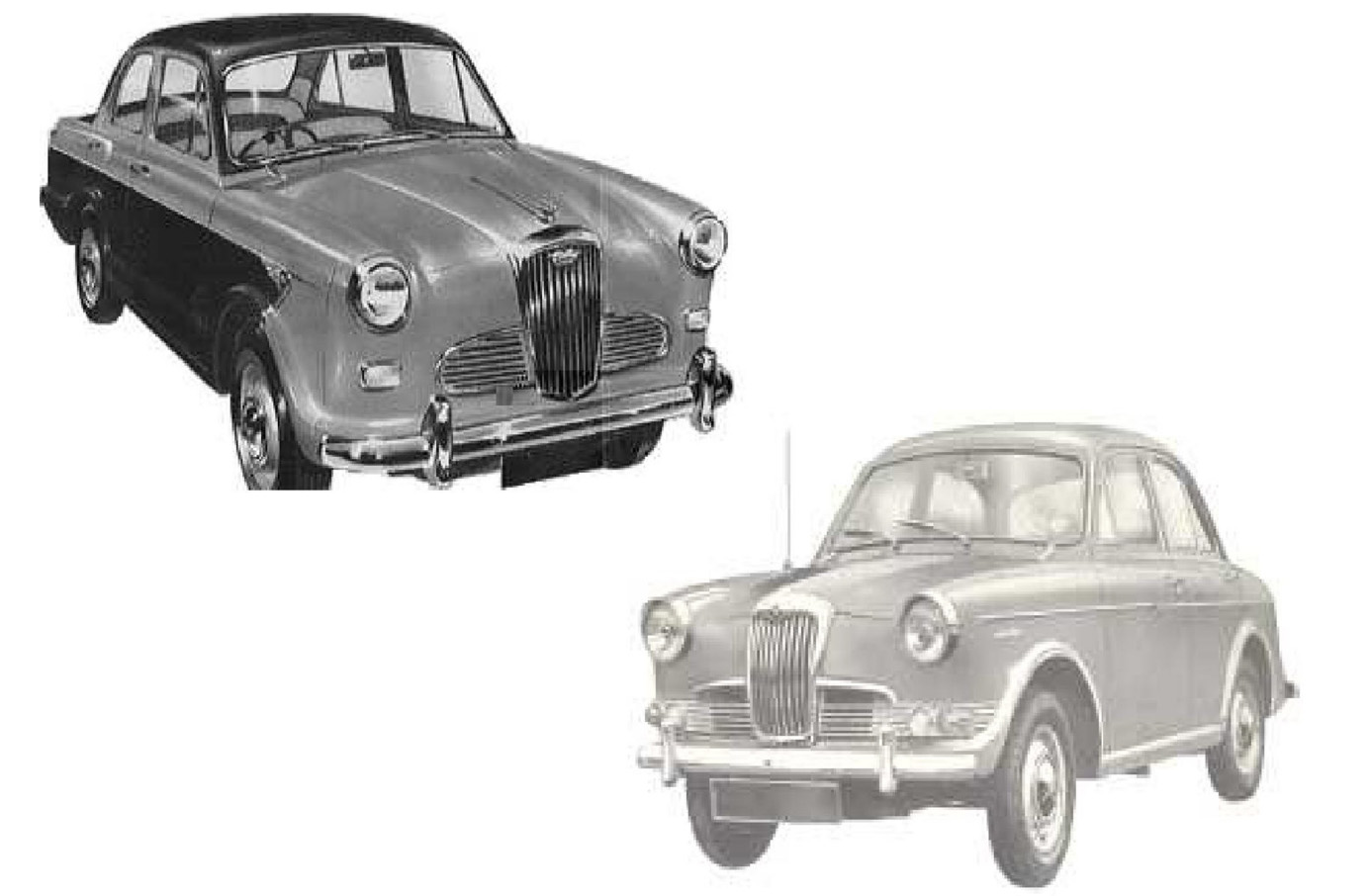 HOW TO FIND A PART:
Firstly, select the category required, which, are alphabetically listed (i.e. part requi red. "L-H Front Wing"- Section for 'Wing" then "Front", then "L-H". It's that simple!
SURCHARGE:
We would ask for your co-operation on the return of exchange units, as we are only able to provide this service whilst we continue to receive a supply of reconditionable units. When the returned units stop, this service will no longer be able to operate. Please respond promptly. Your old unit, once reconditioned, could help a fellow ENTHUSIAST owner. It is up to you to help us to continue to provide this service!
ITEMS marked EXCH or EX, are exchange items and as such incur a surcharge. This is fully refundable upon the return of your own unit, which must be in an undamaged, serviceable condition to qualify. The old unit must also be returned within a 90 DAY period. Please return your old units promptly, taking care no to damage them on removal.
Category
Part Description
Prodco
Wol 1500 mk 1
Wol 1500 mk 2
Wol 1500 mk 3
Riley 1.5 Mk 1
Riley 1.5 mk 2
Riley Mk 3
Price
Badges
BADGES
Badge, Wolseley rad grille, lamp assy (illuminated)
BAG 060
*
*
*
£59.92
Body care
BODY CARE
Dinitrol 3125 body &cavity wax for rusty areas 1LT
BC 0002
*
*
*
*
*
*
£29.77
BODY CARE
Dinitrol 3654 cavity wax for clean & new areas 1LT
BC 0003
*
*
*
*
*
*
£25.33
BODY CARE
Dinitrol 4941 black heavybody wax exposed areas1LT
BC 0004
*
*
*
*
*
*
£25.33
BODY CARE
Dinitrol gun application of wax needs air pressure
BC 0005
*
*
*
*
*
*
£39.20
BODY CARE
Dinitrol RC800 rust converter for rusted areas 1LT
BC 0001
*
*
*
*
*
*
£56.42
BODY CARE
Pad, sound deadening pad 10' x 8' (price per pad)
BC 0007
*
*
*
*
*
*
£3.70
BODY CARE
Pad, sound deadening pad 20' x 8' (price per pad)
BC 0006
*
*
*
*
*
*
£6.44
Body fittings
BODY F'TNGS
Barrel & keys, Riley 1.5, Wol 1500, L-H
BF 0135
*
*
*
*
*
*
£45.51
BODY F'TNGS
Barrel & keys, Riley 1.5, Wol 1500, R-H
BF 0136
*
*
*
*
*
*
£45.51
BODY F'TNGS
Buffer, fr bonnet buffer, Wol 1500, Ril 1.5
BF 0339
*
*
*
*
*
*
£10.79
BODY F'TNGS
Buffer, re bonnet buffer, Wol 1500, Ril 1.5
BF 0340
*
*
*
*
*
*
£10.79
BODY F'TNGS
Clip & pop rivet, moulding, (5/8'dia) Wol 1500
BF 0129
*
*
*
*
*
*
£1.29
BODY F'TNGS
Clip & rivet, fr wings, doors, etc, Ril 1.5 (small moulding)
BF 0341
*
*
*
*
*
*
£1.23
BODY F'TNGS
Clip, weather seal, front or rear doors (QTR REQ 5 per door) Wol 1500 & Ril 1.5
BF 0334
*
*
*
*
*
*
£1.45
BODY F'TNGS
Handle, door front or rear, Wol 1500 etc R-H or L-H
BF 0145
*
*
*
*
*
*
POA
BODY F'TNGS
Mirror head, flat glass use with BF 0113see fr pg
BF 0114
*
*
*
*
*
*
£26.64
BODY F'TNGS
Mirror stem, wing mirror use with BF 0114
BF 0113
*
*
*
*
*
*
£36.95
BODY F'TNGS
Mirror, 2 BF 0114 mirror stems & 2 heads BF 0113
BF 0324
*
*
*
*
*
*
£91.00
BODY F'TNGS
Seal, boot lid, Wol 1500, Ril 1.5
BF 0274
*
*
*
*
*
*
£31.45
BODY F'TNGS
Seal, fr & re, door Wol 1500 & Ril 1.5, SPECIAL FOR PRICE FOR 4 DOOR SEAL, 2 FRONT & 2 REAR
BF 02
*
*
*
*
*
*
£87.29
BODY F'TNGS
Seal, fr door R-H or L-H Wol 1500 & Ril 1.5
BF 0272
*
*
*
*
*
*
£24.24
BODY F'TNGS
Seal, re door R-H or L-H Wol 1500 & Ril 1.5
BF 0273
*
*
*
*
*
*
£24.24
BODY F'TNGS
Seal, weather seal, fr door, inner or outer
BF 0330
*
*
*
*
*
*
£11.59
BODY F'TNGS
Seal, weather seal, re door, inner or outer
BF 0331
*
*
*
*
*
*
£11.59
Body Panels
BODY PANELS
Box section, fr inner wing, L-H above swivel
BP 0577
*
*
*
*
*
*
£48.73
BODY PANELS
Box section, fr inner wing, R-H above swivel
BP 0576
*
*
*
*
*
*
£48.73
BODY PANELS
Bracket, tie rod, fr of chassis leg L-H W1500,R1.5
BP 0443
*
*
*
*
*
*
£14.53
BODY PANELS
Bracket, tie rod, fr of chassis leg R-H W1500,R1.5
BP 0442
*
*
*
*
*
*
£14.53
BODY PANELS
Chassis, leg fr, full, L-H, made to OE standard,16G
BP 0592
*
*
*
*
*
*
£223.60
BODY PANELS
Chassis, leg fr, full, R-H, made to OE standard,16G
BP 0591
*
*
*
*
*
*
£223.60
BODY PANELS
Chassis, leg, fr, half, L-H, made to OE standard,16G
BP 0593
*
*
*
*
*
*
£135.76
BODY PANELS
Chassis, leg, fr, half, R-H, made to OE standard,16G
BP 0594
*
*
*
*
*
*
£135.76
BODY PANELS
Cross-member, front of engine, bottom, Wol 1500 & Ril 1.5
BP 0571
*
*
*
*
*
*
£102.20
BODY PANELS
Cross-member, front of engine, Top reinforcement & cross member, bottom, SPECIAL FOR TOP & BOTTOM MEMBER
BP 0571
*
*
*
*
*
*
£163.96
BODY PANELS
Cross-member, reinforcement front of engine, (top) Wol&Ril1.5
BP 0473
*
*
*
*
*
*
£80.07
BODY PANELS
Hanger, rear spring hanger, L-H, Wol 1500 & R1.5
BP 0698
*
*
*
*
*
*
£52.08
BODY PANELS
Hanger, rear spring hanger, R-H, Wol 1500 & R1.5
BP 0697
*
*
*
*
*
*
£52.08
BODY PANELS
Inner sill, (centre) R-H or L-H, Wol 1500, Ril 1.5
BP 0585
*
*
*
*
*
*
£60.73
BODY PANELS
Inner sill, repair pnl (inside) L-H, Wol 1500,Ril 1.5
BP 0590
*
*
*
*
*
*
£55.20
BODY PANELS
Inner sill, repair pnl (inside) R-H, Wol 1500,Ril 1.5
BP 0589
*
*
*
*
*
*
£55.20
BODY PANELS
Plinth, re tail lamp L-H
BP 0452
*
*
£45.56
BODY PANELS
Plinth, re tail lamp R-H
BP 0451
*
*
£45.56
BODY PANELS
Reinforcement rail L-H top of inner wing, 1500,1.5
BP 0579
*
*
*
*
*
*
£125.00
BODY PANELS
Reinforcement rail R-H top of inner wing, 1500,1.5
BP 0578
*
*
*
*
*
*
£125.00
BODY PANELS
Sill, full sill, as O.E. L-H Wol 1500 & Ril 1.5
BP 0445
*
*
*
*
*
*
£261.08
BODY PANELS
Sill, full sill, as O.E. R-H Wol 1500 & Ril 1.5
BP 0446
*
*
*
*
*
*
£261.08
BODY PANELS
Wing, fr, inner wing repair, L-H, Wol 1500, Ril 1.5
BP 0582
*
*
*
*
*
*
£71.09
BODY PANELS
Wing, fr, inner wing repair, R-H, Wol 1500, Ril 1.5
BP 0581
*
*
*
*
*
*
£71.09
Brakes
BRAKES
Adjuster, front or rear, Price is for each ( 4 REQ FRONT, 2 REQ REAR) Wol 1500 ONLY
£26.73
BRAKES
Adjuster, front, repair kit for both sides (Riley ONLY)
BRF 051
*
*
*
*
*
*
£36.95
BRAKES
Adjuster, rear, Ril 1.5, 1 per drum
BR 0118
*
*
*
£23.27
BRAKES
Adjuster, rear, Ril 1.5, SPECIAL PRICE FOR 2
BR 0
*
*
*
£33.17
BRAKES
Boot, rubber, re whl cyl, Ril 1.5 (1 boot per cyl)
BR 0153
*
*
*
£12.25
BRAKES
Boot, rubber, re, whl, cyl, Wol 1500
BR 0167
*
*
*
£6.41
BRAKES
Boot, rubber, re, whl, cyl, Wol 1500, Special for 2 boots
BR 0
*
*
*
£8.51
BRAKES
Cable, handbrake cable, front, lever to balance lever all mdls
BR 0133
*
*
*
*
*
*
£23.16
BRAKES
Cable, handbrake cable, front/rear, balance lever to re axle all mdls
BR 0132
*
*
*
*
*
*
£23.16
BRAKES
Cable, handbrake, rear axle, L-H, all models (short)
BR 0097
*
*
*
*
*
*
£23.16
BRAKES
Cable, handbrake, rear axle, R-H, all models (long)
BR 0100
*
*
*
*
*
*
£23.16
BRAKES
Cables, handbrake, set of 4 cable as above
BR 0
*
*
*
*
*
*
£73.30
BRAKES
Clevis pin set of 7 clevis pin, for hanbrake cables
*
*
*
*
*
*
£24.53
BRAKES
Clevis pin, handbrake cable, balance lever to rear axle, fits front or rear of cable, QTR REQ2
*
*
*
*
*
*
£3.89
BRAKES
Clevis pin, handbrake cable, handbrake to balance lever, fits rear of cable, QTR REQ1
*
*
*
*
*
*
£3.89
BRAKES
Clevis pin, rear axle handbrake cables (QTR REQ4 FOR 2 CABLES ON REAR AXLE)
*
*
*
*
*
*
£3.89
BRAKES
Clip, retaining clip & boot kit, (1 per cyl) (RILEY 1.5 ONLY)
BRR 118
*
*
*
£16.85
BRAKES
Cyl, master cyl, repair kit, Ril 1.5. Dia 3/4
BR 0116
*
*
*
£14.71
BRAKES
Cyl, master cyl, repair kit, Wol 1500,
BR 0085
*
*
*
£17.18
BRAKES
Cyl, master cyl, repair kit, Wol 1500,
BR 00
*
*
*
£31.69
BRAKES
Cyl, master cyl, Ril 1.5, (Bore 3/4
BR 0117
*
*
*
£77.24
BRAKES
Cyl, master cyl, Wol 1500, please use your own push rod
BR 0092
*
*
*
£150.85
BRAKES
Cyl, wh, fr, cyl repair kit, Ril 1.5, 1 kit per cyl (Bore 3/4)
BR 0114
*
*
*
£4.62
BRAKES
Cyl, wh, fr, cyl repair kit, Ril 1.5, Special for 4 cyls repair kits (Bore 3/4)
BR 0
*
*
*
£16.38
BRAKES
Cyl, wh, fr, cyl repair kit, Wol 1500, Special for 4 cyls
BR 0
*
*
*
£18.40
BRAKES
Cyl, wh, fr, cyl repair kit, Wol 1500,1 kit per cyl
BR 0067
*
*
*
£6.29
BRAKES
Cyl, wh, fr, cyl, Ril 1.5, Special for 2 cyls (2 x R-H) (Bore 3/4)
BR 00
*
*
*
£130.66
BRAKES
Cyl, wh, fr, cyl, Ril 1.5, L-H, (Bore 3/4)
BR 0094
*
*
*
£72.59
BRAKES
Cyl, wh, fr, L-H, Wol 1500,
BRF 111
*
*
*
£71.92
BRAKES
Cyl, wh, fr, L-H, Wol 1500, surcharge
BRF 172
*
*
*
£24.71
BRAKES
Cyl, wh, fr, R-H, Wol 1500,
BRF 116
*
*
*
£71.92
BRAKES
Cyl, wh, fr, R-H, Wol 1500, surcharge
BRF 171
*
*
*
£24.71
BRAKES
Cyl, wh, re, cyl repair kit, Ril 1.5, for 1 cyl
BRR 125
*
*
*
£6.63
BRAKES
Cyl, wh, re, cyl repair kit, Ril 1.5, Special for 2 cyls repair kits
BRR
*
*
*
£11.46
BRAKES
Cyl, wh, re, cyl repair kit, Wol 1500, Special for 2 cyls repair kits
BR 00
*
*
*
£16.38
BRAKES
Cyl, wh, re, cyl repair kit, Wol 1500,1 kit per cly
BR 0099
*
*
*
£9.65
BRAKES
Cyl, wh, re, cyl, Ril 1.5, R-H or L-H, GIRLING
BR 0126
*
*
*
£54.40
BRAKES
Cyl, wh, re, cyl, Wol 1500, R-H or L-H
BR 0087
*
*
*
£109.04
BRAKES
Drum, re, all models
BR 0098
*
*
*
*
*
*
£61.36
BRAKES
Fluid, brake or clutch (DOT4) (0.5 Litre)
BRF 087
*
*
*
*
*
*
£8.73
BRAKES
Fluid, brake or clutch (DOT4) (1 Litre)
BRF 086
*
*
*
*
*
*
£12.34
BRAKES
Hose kit, 2 front & 1 rear, Ril 1.5, SPECIAL PRICE FOR 3
BR 00
*
*
*
£38.64
BRAKES
Hose, front or rear, Ril 1.5
BR 0083
*
*
*
£17.01
BRAKES
Hose, front or rear, Wol 1500
BR 0089
*
*
*
£17.01
BRAKES
Hoses, 2 front & 1 rear, Wol 1500, SPECIAL PRICE FOR 3
BR 00
*
*
*
£38.64
BRAKES
Nut, for brake hose, (thin)
BRF 250
*
*
*
*
*
*
£1.60
BRAKES
Pipe kit, copper brake pipe/brass unions Ril 1.5
BR 0130
*
*
*
£61.27
BRAKES
Pipe kit, copper brake pipe/brass unions Wol 1500
BR 0131
*
*
*
£61.27
BRAKES
Pipe, fr brake pipe bridge pipe, Wol 1500 & Ril 1.5
BRF 173
*
*
*
£7.03
BRAKES
Servo, power stop, NEW, all models
*
*
*
*
*
*
£231.74
BRAKES
Set screw, small, front, wheel cylinder, (1 per cylinder) Wol 1500 only
£3.55
BRAKES
Setscrew, large, front, wheel cylinder, (1 per cylinder) Wol 1500 only
£1.77
BRAKES
Shoes, fr, set of 4 exch, Ril 1.5
BR 0123
*
*
*
£108.90
BRAKES
Shoes, fr, set of 4, Ril 1.5, surcharge
BR 0
*
*
*
£54.58
BRAKES
Shoes, front brake shoes, set of 4, Wol 1500, NEW SHOES no surcharge
BR 0122
*
*
*
£74.22
BRAKES
Shoes, re, set of 4 exch, Ril 1.5
BR 0121
*
*
*
£67.80
BRAKES
Shoes, re, set of 4 exch, Ril 1.5
BR 0121
*
*
*
£67.80
BRAKES
Shoes, re, set of 4, Wol 1500, NEW SHOES no surcharge
BR 0120
*
*
*
£41.05
BRAKES
Shoes, re, surcharge, Riley 1.5 ONLY
BR 0091
*
*
*
*
*
*
£54.58
BRAKES
Spring kit, fr shoe return springs 4 in kit Ril 1.5
BR 0134
*
*
*
£22.35
BRAKES
Spring kit, rear, shoe return springs, 4 in kit, Ril 1.5 (2 springs type 2 coils, 2 springs type 1 coil)
BR 0159
*
*
*
£30.89
BRAKES
Spring, re, shoe return springs, lower, Wol 1500 (type 2 coils) QTR REQ 2
£14.26
BRAKES
Switch, brake light (thread BSP 5/8' long)
BR 0140
*
*
*
*
*
*
£29.68
BRAKES
Union, 5 way use with brake switch wol 1500
BR
£55.28
BRAKES
Washer, cooper, hose to cylinder
BRF 253
*
*
*
*
*
*
£0.61
BRAKES
Washer, locking, for brake hose, (use with nut)
BRF 252
*
*
*
*
*
*
£0.37
Bumpers
BUMPERS
Strip seating, front or rear over riders (per metre)
BM 0034
*
*
*
*
*
*
£7.77
Clutch
CLUTCH
Bearing, release, all models, petrol
CL 0088
*
*
*
*
*
*
£35.93
CLUTCH
Bolt, clutch fork arm, all models
CL 0237
*
*
*
*
*
*
£12.24
CLUTCH
Bush, clutch fork arm, all models
CL 0236
*
*
*
*
*
*
£5.45
CLUTCH
Cover, recon exch, all models, petrol
CL 0083
*
*
*
*
*
*
£120.89
CLUTCH
Cover, surcharge
CL 0082
*
*
*
*
*
*
£52.99
CLUTCH
Cyl, master cyl, clutch repair kit, all models
CL 0096
*
*
*
*
*
*
£17.18
CLUTCH
Cyl, master cyl, clutch Wol 1500/Ril 1.5
CL 0093
*
*
*
*
*
*
£150.85
CLUTCH
Cyl, slave cyl, clutch repair kit, (Dia 1")
CL 0094
*
*
*
*
*
*
£12.24
CLUTCH
Cyl, slave cyl, clutch surcharge Wol 1500/Ril 1.5
CL 0118
*
*
*
*
*
*
£44.65
CLUTCH
Cyl, slave cyl, clutch, (Dia 1'') re-sleeved, stainless steel, reconditioned exchange
CL 0095
*
*
*
*
*
*
£123.42
CLUTCH
Hose, slave cyl, clutch, Wol 1500/Ril 1.5
CL 0111
*
*
*
*
*
*
£17.18
CLUTCH
Kit, cover/plate/bearing A55 etc Wo1500 10 splines
CL 0079
*
*
*
*
*
*
£175.15
CLUTCH
Kit, cover/plate/bearing A60/Wo 1500 etc 23 spline
CL 0078
*
*
*
*
*
*
£166.41
CLUTCH
Kit, surcharge
CL 0077
*
*
*
*
*
*
£74.18
CLUTCH
Pipe, master cyl to hose R-H (copper, brass union)
CL 0120
*
*
*
*
*
*
£17.18
CLUTCH
Plate, NEW, no exch A50/A55MK1/2 Wo1500etc,10 splines
CL 00
*
*
*
*
*
*
£79.46
CLUTCH
Plate, recon exch A50/A55MK1/2 Wo1500etc,10 splines
CL 0081
*
*
*
*
*
*
£57.33
CLUTCH
Plate, recon exch A60/Wol 1500etc petrol,23 splines
CL 0087
*
*
*
*
*
*
£57.33
CLUTCH
Plate, surcharge
CL 0086
*
*
*
*
*
*
£33.91
CLUTCH
Rod, push rod, clutch slave cyl, Wol1500, Ril 1.5
CL 0188
*
*
*
*
*
*
£23.16
CLUTCH
Set screw cover to flywheel clutch, all models
CL 0193
*
*
*
*
*
*
£1.60
Cooling system
COOLING SYST
Belt, fan belt petrol, A55MK1,2,A60, etc
COS 097
*
*
*
*
*
*
£17.74
COOLING SYST
Blade, fan blade, S/hand, A55,A60,etc
COS 158
*
*
*
*
*
*
£31.89
COOLING SYST
Cable, heater cable, Wol 1500, Ril 1.5
COS 217
*
*
*
*
*
*
£19.65
COOLING SYST
Cap, radiator, Wol 1500, Ril 1.5 (4LBS)
COS 151
*
*
*
*
*
*
£13.89
COOLING SYST
Elbow, thermostat elbow kit; water outer all mdls (1 thermostat 74c, 3 studs, spring washers, nuts, gasket & elbow
COS 0
£41.22
COOLING SYST
Elbow, thermostat elbow kit; water outer all mdls (1 thermostat 82c, 3 studs, spring washers, nuts, gasket & elbow
COS 0
£41.22
COOLING SYST
Elbow, thermostat elbow kit; water outer all mdls (1 thermostat 88c, 3 studs, spring washers, nuts, gasket & elbow
COS 0
£41.22
COOLING SYST
Elbow, thermostat elbow, water outlet all models
COS 098
*
*
*
*
*
*
£30.86
COOLING SYST
Gasket, thermostat A40/A55/A60/WOL1500/11/1300 etc
COS 052
*
*
*
*
*
*
£2.21
COOLING SYST
Gasket, water pump eng 16AMW to16C small impeller
COS 089
*
*
*
*
*
*
£2.37
COOLING SYST
Hose kit, top & bottom radiator hoses & hose clips, Wol 1500 & Ril 1.5
COS
*
*
*
*
*
*
£45.78
COOLING SYST
Hose kit, Wol 1500 & Ril 1.5, radiator, 1 top hose, 1 bottom hose, 2 heater hoses
*
*
*
*
*
*
£45.78
COOLING SYST
Hose, radiator bottom Wol 1500 & Ril 1.5
COS 115
*
*
*
*
*
*
£28.60
COOLING SYST
Hose, radiator top Wol 1500 & Ril 1.5 (KEVLAR)
COS 114
*
*
*
*
*
*
£23.30
COOLING SYST
Pump, water eng No16AMW to 16C small impeller
COS 090
*
*
*
*
*
*
£87.21
COOLING SYST
Radiator, recond, exch, Wol 1500, Ril 1.5
COS 215
*
*
*
*
*
*
£286.13
COOLING SYST
Radiator, surcharge, Wol 1500, Ril 1.5
COS 216
*
*
*
*
*
*
£108.08
COOLING SYST
Stud, thermostat elbow water outlet
COS 105
*
*
*
*
*
*
£2.21
COOLING SYST
Thermostat, 74c (cooler running) all mdls,except4LR
COS 126
*
*
*
*
*
*
£10.27
COOLING SYST
Thermostat, 82c (normal) all models, except 4LR
COS 053
*
*
*
*
*
*
£10.27
COOLING SYST
Thermostat, 88c (winter) all models, except 4LR
COS 116
*
*
*
*
*
*
£10.27
COOLING SYST
Transmitter, thermal, (sender unit)
COS 028
*
*
*
*
*
*
£33.99
COOLING SYST
Valve, heater valve ASSY, Wol 1500 & Ril 1.5
COS 218
*
*
*
*
*
*
£47.91
Diff
DIFF
Ball bearing, output, QTY REQ 2, A55,WOL1500 etc
DF 0048
*
*
*
*
*
*
£45.64
DIFF
Ball bearing, pinion fr,QTY REQ 1,A55,WOL1500 etc
DF 0047
*
*
*
*
*
*
£42.02
DIFF
Ball bearing, pinion re,QTY REQ 1,A55,WOL1500 etc
DF 0049
*
*
*
*
*
*
£42.02
DIFF
Description breather, for diff, all models
DF 0066
*
*
*
*
*
*
£7.29
DIFF
Gasket, diff, Ril 1.5
DF 0054
*
*
*
£5.59
DIFF
Seal, diff nose oil seal all models
DF 0034
*
*
*
*
*
*
£9.20
DIFF
Shim, fr pinion bearing, .012', A55,A60,WOL1500 etc
DF 0042
*
*
*
*
*
*
£2.37
DIFF
Shim, output .0254' A55,A60,WOL1500 etc
DF 0044
*
*
*
*
*
*
£0.86
DIFF
Washer, thrust differential whl,A55,A60,WOL1500 etc
DF 0043
*
*
*
*
*
*
£7.08
Electrics
ELECTRICS
Bar, battery bar kit, (bar & rods, not orig)
EL 0146
*
*
*
*
*
*
£17.18
ELECTRICS
Brushes, dynamos Ril 1.5 & Wol1500 etc
EL 0034
*
*
*
*
*
*
£17.18
ELECTRICS
Brushes, motor wiper Ril 1.5 & Wol1500etc
EL 0042
*
*
*
*
*
*
£18.98
ELECTRICS
Brushes, starter motor Wol 1500 etc (inertia drive)
EL 0035
*
*
*
*
*
*
£13.53
ELECTRICS
Bulb, indicator switch Ril 1.5 & Wol 1500
EL 0076
*
*
*
*
*
*
£3.10
ELECTRICS
Control, box (2 bobbin type screw terminals)
EL 0083
*
*
*
*
*
*
£34.97
ELECTRICS
Control, box (2 bobbin type spade terminals)
EL 0007
*
*
*
*
*
*
£34.97
ELECTRICS
Dipswitch, headlamps, (floor mounted) Ril & Wol 1500
EL 0094
*
*
*
*
*
*
£36.95
ELECTRICS
Dynamo, FACTORY BUILT, Ril 1.5 & Wol1500etc
EL 0073
*
*
*
*
*
*
£84.68
ELECTRICS
Fuse box, spade terminal, Ril 1.5 & Wol 1500
EL 0048
*
*
*
*
*
*
£32.02
ELECTRICS
Fuse, 35 amp
EL 0090
*
*
*
*
*
*
£3.10
ELECTRICS
Grommet, wiring harness, bulkhead, all models
*
*
*
*
*
*
£11.12
ELECTRICS
Harness, wiring loom Ril 1.5 1957-61 R-H or L-H drive
EL 0098
*
*
£340.56
ELECTRICS
Harness, wiring loom Ril 1.5 1961-65 R-H or L-H drive
EL 0096
*
£340.56
ELECTRICS
Harness, wiring loom Wol 1500 1957-60 R-H or L-H drive
EL 0097
*
*
£340.56
ELECTRICS
Harness, wiring loom Wol 1500 1961-64 R-H or L-H drive
EL 0095
*
£340.56
ELECTRICS
Lens, indicator switch ril 1.5 & Wol 1500 etc
EL 0080
*
*
*
*
*
*
£12.24
ELECTRICS
Motor, starter, recond, exch, A60, etc (inertia drive)
EL 0028
*
*
*
*
*
*
£117.88
ELECTRICS
Motor, starter, surcharge, A60, etc (inertia drive)
EL 0028
*
*
*
*
£70.27
ELECTRICS
Motor, wiper motor recon ex Wo1500MK1&2 etc
EL 0068
*
*
*
*
*
*
£148.26
ELECTRICS
Motor, wiper motor recon exch Ril 1.5 & 1500MK3
EL 0064
*
*
*
*
*
*
£109.04
ELECTRICS
Motor, wiper, surcharge
EL 0066
*
*
*
*
*
*
£96.05
ELECTRICS
Solenoid, starter, SQ type
EL 0009
*
*
*
*
*
*
£38.03
ELECTRICS
Switch, indicator switch (column) Wol 1500/Ril 1.5
EL 0099
*
*
*
*
*
*
£158.37
ELECTRICS
Switch, reverse light s/hand Wol 1500 etc
EL 0092
*
*
*
*
*
*
£24.59
ELECTRICS
Unit, flasher unit Wol 1500 & Ril 1.5
EL 0075
*
*
*
*
*
*
£14.71
Engine
ENGINE
Adjuster screw rocker arm all models
EG 0249
*
*
*
*
*
*
£2.85
ENGINE
Bearing, camshaft (set of 3)
EG 0264
*
*
*
*
*
*
£37.85
ENGINE
Bearing, spigot
EG 0251
*
*
*
*
*
*
£7.29
ENGINE
Bearings set, big end 1489 & 1622cc +0.000' STD
EG 0280
*
*
*
*
*
*
£48.75
ENGINE
Bearings set, big end 1489 & 1622cc +0.010'
EG 0279
*
*
*
*
*
*
£48.75
ENGINE
Bearings set, big end 1489 & 1622cc +0.020'
EG 0278
*
*
*
*
*
*
£48.75
ENGINE
Bearings set, big end 1489 & 1622cc +0.030'
EG 0277
*
*
*
*
*
*
£48.75
ENGINE
Bearings set, big end 1489 & 1622cc +0.040'
EG 0276
*
*
*
*
*
*
£48.75
ENGINE
Bearings set, big end 1489 & 1622cc +0.060'
EG 0290
*
*
*
*
*
*
£48.75
ENGINE
Bearings set, mains 1489cc +0.000' STD (SHELLS)
EG 0285
*
*
*
*
*
*
£69.34
ENGINE
Bearings set, mains 1489cc +0.010' (SHELLS)
EG 0284
*
*
*
*
*
*
£69.34
ENGINE
Bearings set, mains 1489cc +0.020' (SHELLS)
EG 0283
*
*
*
*
*
*
£69.34
ENGINE
Bearings set, mains 1489cc +0.030' (SHELLS)
EG 0275
*
*
*
*
*
*
£69.34
ENGINE
Bearings set, mains 1489cc +0.040' (SHELLS)
EG 0281
*
*
*
*
*
*
£69.34
ENGINE
Boot, rubber for dip stick
EG 0245
*
*
*
*
*
*
£9.90
ENGINE
Bush, for rocker arm all models
EG 0257
*
*
*
*
*
*
£3.26
ENGINE
Camshaft, NEW, 1498, 1622cc
EG 0214
*
*
*
*
£180.11
ENGINE
Camshaft, reprofile, 1498, 1622cc
EG 1181
*
*
*
*
£107.94
ENGINE
Camshaft, reprofile, surcharge, 1498, 1622cc
EG 1182
*
*
*
*
£60.04
ENGINE
Cap, filler cap rocker cover box
EG 0258
*
*
*
*
*
*
£12.24
ENGINE
Cap, oil filler cap, plastic type (rocker box)
EG 0503
*
*
*
*
*
*
£16.19
ENGINE
Chain kit, timing chain, tensioner, gasket, oil seal
EG 0391
*
*
£25.29
ENGINE
Chain kit, timing chain, tensioner,gasket,felt seal
EG 0392
*
*
*
*
*
*
£25.29
ENGINE
Chain, timing duplex,1498,1622
EG 0001
*
*
*
*
*
*
£18.29
ENGINE
Core plug, cup type
EG 0588
*
*
*
*
*
*
£4.08
ENGINE
Distributor cap, side entry, 1959-65, Wolseley 1500, distributor, DM2
*
*
£73.85
ENGINE
Distributor cap, side entry, 1960-65, Riley 1.5, distributor 25D
*
*
*
*
£64.42
ENGINE
Dowel, flywheel all models QTY REQ 2
EG 0357
*
*
*
*
*
*
£2.71
ENGINE
Drive, distributor spindle drive, B ser
EG 0649
*
*
*
*
*
*
£66.18
ENGINE
Filter, oil spin on sure flow (for ADAPTOR)
EG 0220
*
*
*
*
*
*
£9.83
ENGINE
Filter, oil, STD paper element, Wol 1500,Ril1.5,etc
EG 0270
*
*
*
*
*
*
£13.59
ENGINE
Fly wheel assy, manual all models
EG 0354
*
*
*
*
*
*
£108.08
ENGINE
Fly wheel assy, manual, recond exch, B sev
EG 0643
*
*
*
*
*
*
£138.42
ENGINE
Fly wheel assy, manual, surcharge on old unit,B sev
EG 0644
*
*
*
*
*
*
£108.08
ENGINE
Follower, for camshaft (tappet)
EG 0215
*
*
*
*
*
*
£10.63
ENGINE
Gasket set, conversion, 1489 & 1622, 16AMW to 16C,to 1966
EG 0219
*
*
*
*
*
*
£37.30
ENGINE
Gasket set, cyl head 1489/1622 to 1966,16AMW to16C
EG 0227
*
*
*
*
*
*
£46.53
ENGINE
Gasket, cyl head 1489 & 1622, 16AMW to 16C to 1966
EG 0230
*
*
*
*
*
*
£32.31
ENGINE
Gasket, manifold to cyl head, all models
EG 0236
*
*
*
*
*
*
£4.08
ENGINE
Gasket, mounting plate front (engine to fr plate)
EG 0221
*
*
*
*
*
*
£4.57
ENGINE
Gasket, mounting plate re, eng to gearbox
EG 0177
*
*
*
*
*
*
£4.57
ENGINE
Gasket, oil pump, 1200 & 1498cc, sev B
EG 0646
*
*
*
*
*
*
£2.44
ENGINE
Gasket, rocker cover all models
EG 0234
*
*
*
*
*
*
£4.08
ENGINE
Gasket, side plate models (push rods)
EG 0224
*
*
*
*
*
*
£2.48
ENGINE
Gasket, sump 1489cc & 1622cc (to 1966)
EG 0232
*
*
*
*
*
*
£9.77
ENGINE
Gasket, timing cover
EG 0222
*
*
*
*
*
*
£5.93
ENGINE
Guide, valve exhaust (bronze leaded free)1489,1622cc
EG 0263
*
*
*
*
*
*
£7.29
ENGINE
Guide, valve exhaust (lead free) 1489,1622cc
EG 0600
*
*
*
*
*
*
£9.83
ENGINE
Guide, valve Inlet (bronze for lead free)1489,1622cc
EG 0262
*
*
*
*
*
*
£7.29
ENGINE
Guide, valve inlet (lead free) 1489,1622cc
EG 0601
*
*
*
*
*
*
£9.83
ENGINE
Key, camshaft timing gear, B sev
EG 0645
*
*
*
*
*
*
£4.21
ENGINE
Key, crankshaft timing gear, B sev
EG 0647
*
*
*
*
*
*
£9.30
ENGINE
Mounting, fr, engine Wol 1500 & Ril 1.5 (SQ)
EG 0389
*
*
*
*
*
*
£39.20
ENGINE
Mounting, fr, engine Wol 1500 & Ril 1.5 (SQ) SPECIAL PRICE FOR 2
EG 0
*
*
*
*
*
*
£70.86
ENGINE
Nut, cyl head stud, B sev (QTR REQ 11)
EG 0639
*
*
*
*
*
*
£1.18
ENGINE
Nut, for adjuster screw rocker arm all models
EG 0248
*
*
*
*
*
*
£1.11
ENGINE
Nut, rocker cover, chrome, 803,948,1098,1300cc
02A 0150
*
*
*
*
*
*
£3.54
ENGINE
Nut, rocker cover, zinc, 803,948,1098,1300cc
02A 0150
*
*
*
*
*
*
£2.86
ENGINE
Oil, engine oil, classic, 20W/50, 4.5 Litres, all models
EG 1192
*
*
*
*
*
*
£38.09
ENGINE
Pistons set, 1489cc HC STD, (per 4)
EG 0345
*
*
*
*
£342.44
ENGINE
Pistons set, 1489cc HC +.020, (per 4)
EG 0346
*
*
*
*
£342.44
ENGINE
Pistons set, 1489cc HC +.030, (per 4)
EG 0348
*
*
*
*
£342.44
ENGINE
Pistons set, 1489cc HC +.040, (per 4)
EG 0347
*
*
*
*
£342.44
ENGINE
Pistons set, 1489cc HC +.060, (per 4)
EG 0349
*
*
*
*
£342.44
ENGINE
Plate, oil filter, Purolator & Tacalemit
EG 0642
*
*
*
*
*
*
£12.24
ENGINE
Plug, core concave type
EG 0247
*
*
*
*
*
*
£3.34
ENGINE
Plug, sump drain plug & washer (QTY REQ 1)
EG 0338
*
*
*
*
*
*
£9.04
ENGINE
Pulley wheel, crankshaft, NEW, 1498,1622cc
EG 0
*
*
*
*
*
*
£108.17
ENGINE
Pump, oil pump, early type small water pump,to 16C
EG 0273
*
*
*
*
*
£70.68
ENGINE
Pump, oil rotor & spindle (early small water pump)
EG 0333
*
*
*
*
*
*
£36.95
ENGINE
Push rod, 1498cc, 1622cc, 1800cc (long type)
EG 0471
*
*
*
*
*
*
£7.29
ENGINE
Ring gear, flywheel starting all models
EG 0356
*
*
*
*
*
*
£34.95
ENGINE
Ring set, 1489cc (4 rings) STD(3@1.59,1@4.0mm)
EG 0616
*
*
*
*
*
*
£119.94
ENGINE
Ring set, 1489cc (4 rings) STD(3@2.0,1@4.0m)
EG 0240
*
*
*
*
*
*
£119.94
ENGINE
Ring set, 1489cc (4 rings) +0.020'(3@1.59,1@4.0mm)
EG 0617
*
*
*
*
*
*
£119.94
ENGINE
Ring set, 1489cc (4 rings) +0.020'(3@2.0,1@4.0mm)
EG 0183
*
*
*
*
*
*
£119.94
ENGINE
Ring set, 1489cc (4 rings) +0.030'(3@1.59,1@4.0mm)
EG 0620
*
*
*
*
*
*
£119.94
ENGINE
Ring set, 1489cc (4 rings) +0.030'(3@2.0,1@4.0mm)
EG 0190
*
*
*
*
*
*
£119.94
ENGINE
Ring set, 1489cc (4 rings) +0.040'(3@1.59,1@4.0mm)
EG 0618
*
*
*
*
*
*
£119.94
ENGINE
Ring set, 1489cc (4 rings) +0.040'(3@2.0,1@4.0mm)
EG 0191
*
*
*
*
*
*
£119.94
ENGINE
Ring set, 1489cc (4 rings) +0.060'(3@1.59,1@4.0mm)
EG 0619
*
*
*
*
*
*
£119.94
ENGINE
Ring set, 1489cc (4 rings) +0.060'(3@2.0,1@4.0mm)
EG 0192
*
*
*
*
*
*
£119.94
ENGINE
Ring set, 1489cc (5 rings) STD(3@1.59,2@4.0mm)
EG 0624
*
*
*
*
*
*
£119.94
ENGINE
Ring set, 1489cc (5 rings) +0.020'(3@1.59,2@4.0mm)
EG 0621
*
*
*
*
*
*
£119.94
ENGINE
Ring set, 1489cc (5 rings) +0.020'(3@2.0,2@4.0mm)
EG 0194
*
*
*
*
*
*
£119.94
ENGINE
Ring set, 1489cc (5 rings) +0.030'(3@1.59,2@4.0mm)
EG 0622
*
*
*
*
*
*
£119.94
ENGINE
Ring set, 1489cc (5 rings) +0.030'(3@2.0,2@4.0mm)
EG 0195
*
*
*
*
*
*
£119.94
ENGINE
Ring set, 1489cc (5 rings) +0.040'(3@1.59,2@4.0mm)
EG 0623
*
*
*
*
*
*
£119.94
ENGINE
Ring set, 1489cc (5 rings) +0.040'(3@2.0,2@4.0mm)
EG 0196
*
*
*
*
*
*
£119.94
ENGINE
Ring set, 1489cc (5 rings) +0.060'(3@1.59,2@4.0mm)
EG 0615
*
*
*
*
*
*
£119.94
ENGINE
Ring set, 1489cc (5 rings) +0.060'(3@2.0,2@4.0mm)
EG 0188
*
*
*
*
*
*
£119.94
ENGINE
Rocker arm, OE all models
EG 0256
*
*
*
*
*
*
£32.02
ENGINE
Rocker arm, recon exch all models
EG 0255
*
*
*
*
*
*
£16.01
ENGINE
Rocker arm, recon exch surcharge all models
EG 0254
*
*
*
*
*
*
£8.64
ENGINE
Rocker shaft assy, recond, exch,1498&1622cc
EG 0603
*
*
*
*
*
*
£139.11
ENGINE
Rocker shaft assy, surcharge,1498&1622cc
EG 0604
*
*
*
*
*
*
£43.22
ENGINE
Seal, felt, oil filter bowl to bolt inner,Purolator
EG 0658
*
*
*
*
*
*
£2.37
ENGINE
Seal, felt, oil filter bowl to bolt inner,Tecalemit
EG 0660
*
*
*
*
*
*
£2.37
ENGINE
Seal, oil filter bowl to bolt outer seal, Purolator
EG 0662
*
*
*
*
*
*
£2.37
ENGINE
Seal, oil filter bowl to bolt outer seal, Tecalemit
EG 0661
*
*
*
*
*
*
£2.37
ENGINE
Seal, oil seal, felt, timing cover, W1500, Ril 1.5
EG 0217
*
*
*
*
*
*
£4.08
ENGINE
Seal, oil seal, rubber, timing cover, Wol1500, Ril 1.5, etc
EG 0004
*
*
*
*
*
*
£6.19
ENGINE
Seal, rocker cover box (box to nut) (QTY REQ 2)
EG 0253
*
*
*
*
*
*
£2.49
ENGINE
Seal, valve stem,(cup type)inlet&exhaust1498/1622cc
EG 0579
*
*
*
*
*
*
£1.24
ENGINE
Seal, valve stem,(O ring)inlet&exhaust 1498/1622cc
EG 0465
*
*
*
*
*
*
£0.61
ENGINE
Service kit, oil & air filter, 4 spark plugs, HT lead set, condensor, contact set, rotor arm
ENGINE
Service kit, oil filter, 4 spark plugs, HT lead set, condensor, contact set, rotor arm
ENGINE
Shaft, rocker shaft all models
G 0252
*
*
*
*
*
*
£53.82
ENGINE
Spring, oil pressure relief valve
EG 0250
*
*
*
*
*
*
£5.56
ENGINE
Spring, valve double (exhst&inlet) 1498,1622cc
EG 0599
*
*
*
£4.39
ENGINE
Spring, valve single (exhst&inlet) 1498,1622cc
EG 0216
*
*
*
*
£3.71
ENGINE
Sprocket, camshaft (timing chain duplex)
EG 0212
*
*
*
*
*
*
£47.91
ENGINE
Sprocket, crankshaft (timing chain duplex)
EG 0213
*
*
*
*
*
*
£52.71
ENGINE
Stud, cyl head stud, long, 1498/1622cc QTY REQ 4
EG 0470
*
*
*
*
*
*
£4.47
ENGINE
Stud, cyl head stud, short, 1498/1622cc QTY REQ 7
EG 0469
*
*
*
*
*
*
£2.97
ENGINE
Stud, exhaust manifold to head, 1 stud at both ends
EG 0651
*
*
*
*
*
*
£1.94
ENGINE
Switch, oil pressure
EG 0037
*
*
*
*
*
*
£8.44
ENGINE
Tensioner, chain, timing (duplex)
EG 0211
*
*
*
*
*
*
£17.06
ENGINE
Valve seat, insert exhaust, 1498cc (lead free)
EG 0576
*
*
*
*
*
*
£13.45
ENGINE
Valve seat, insert exhaust, 1622cc (lead free)
EG 0575
*
*
*
*
*
*
£14.71
ENGINE
Valve, exhaust 1489cc
EG 0260
*
*
*
*
*
*
£23.16
ENGINE
Valve, exhaust 1622cc (lead free)
EG 0261
£12.97
ENGINE
Valve, Inlet 1489cc
EG 0265
*
*
*
*
*
*
£23.16
ENGINE
Valve, Inlet 1622cc
EG 0259
£12.97
ENGINE
Valve, oil pressure relief valve
EG 0246
*
*
*
*
*
*
£7.29
ENGINE
Washer, drain plug QTY REQ 1
EG 0339
*
*
*
*
*
*
£1.24
ENGINE
Washer, sump drain plug, (cooper) B ser
EG 0641
*
*
*
*
*
*
£2.44
ENGINE
Washer, sump plug, B ser
EG 0640
*
*
*
*
*
*
£2.44
ENGINE
Washer-locking, big end bolts QTY REQ 4
EG 0337
*
*
*
*
*
*
£2.37
ENGINE
Washer-locking, camshaft sprocket nut QTY REQ 1
EG 0335
*
*
*
*
*
*
£2.37
ENGINE
Washer-locking, camshaft starting nut QTY REQ 1
EG 0340
*
*
*
*
*
*
£2.37
ENGINE
Washer-locking, flywheel bolts,QTY REQ 3,man&auto
EG 0336
*
*
*
*
*
*
£7.29
ENGINE
Washers, +0.005 thrust upper&lower(per 4 thrusts)
EG 0293
*
*
*
*
*
*
£12.24
ENGINE
Washers, STD thrust upper & lower (per 4 thrusts)
EG 0294
*
*
*
*
*
*
£12.24
Exhaust fitting kit
EXH, FIT KIT
Ril, 1.5, etc inc all fittings
EFK
*
*
*
£69.33
EXH, FIT KIT
Wol 1500, etc inc all fittings
EFK
*
*
*
£69.33
Exhaust fittings
EXHST F'INGS
Bracket, use with U bolt, tailpipe re WOL1500 REQ 1
EF 0053
*
*
*
£1.78
EXHST F'INGS
Mounting, exhaust box REQ 2,intermediate mount REQ 1
EF 0049
*
*
*
*
*
*
£6.26
Exhaust manifold
EXHST MANFD
Manifold, s/hand, Wol 1500, one piece manifold, all cast iron
EM 0004
*
*
*
£174.24
Exhausts Mild Steel
EXHAUSTS
Ril 1.5, centre exhaust box, Ril 1.5 1957-65
EX 0093
*
*
*
£137.01
EXHAUSTS
Ril 1.5, complete exhaust system
EX 0115
*
*
*
£234.94
EXHAUSTS
Ril 1.5, front pipe, Ril 1.5 1957-65
EX 0094
*
*
*
£104.57
EXHAUSTS
Ril 1.5, tail pipe, Ril 1.5 1957-65
EX 0092
*
*
*
£48.47
EXHAUSTS
Wol 1500, centre exhaust box, Wol 1500 1957-65
EX 0096
*
*
*
£137.01
EXHAUSTS
Wol 1500, complete exhaust system, 1957-59, two piece manifold, aluminium & cast iron (to ch No 32400)
EX 0
*
*
*
£213.58
EXHAUSTS
Wol 1500, complete exhaust system, 1959-65, one piece manifold, all cast iron (from ch. 32401)
EX 0116
*
*
*
£213.58
EXHAUSTS
Wol 1500, front pipe, Wol 1500 1957-59, two piece manifold, aluminium & cast iron (to ch No 32400)
EX 00
*
*
*
£104.57
EXHAUSTS
Wol 1500, front pipe, Wol 1500 1959-65, one piece manifold, all cast iron (from ch. 32401)
EX 0097
*
*
*
£104.57
EXHAUSTS
Wol 1500, tailpipe, Wol 1500 1957-65
EX 0095
*
*
*
£48.44
Exhausts Stainless Steel
EXHSTS S/STL
Ril 1.5, complete exhaust system
EXS 000
*
*
*
£329.08
EXHSTS S/STL
Wol 1500, complete exhaust system
EXS 000
*
*
*
£329.08
Fuel System
FUEL SYST
Cable, coke, Wol 1500 & Ril 1.5
EF
*
*
*
*
*
*
£47.89
FUEL SYST
Cable, throttle, Wol 1500 & Ril 1.5
FS 0114
*
*
*
*
*
*
£9.80
FUEL SYST
Carb rebuild kit, H2, Wol 1500,1957-58,carb No AUD813,855(no needle)
FS 0
*
*
£78.00
FUEL SYST
Carb rebuild kit, H4, Ril 1.5,1957-62,carb No AUD864,870 for 1 carbs(no needle)
*
*
*
£78.00
FUEL SYST
Carb rebuild kit, HS2, Wol 1500,1959-64,carb No AUD929,976(no needle)
FS 0257
*
*
£78.00
FUEL SYST
Filter, air Wol 1500
FS 0110
*
*
*
*
*
*
£14.71
FUEL SYST
Filter, fuel filter (inline, fits in fuel hose)
FS 0136
*
*
*
*
*
*
£8.15
FUEL SYST
Float, SU H2 & HS2, 1498, Wol 1500, 1957-58, single carb No AUC 813,855
FS 0166
*
£47.91
FUEL SYST
Float, SU H2 & HS2, 1498, Wol 1500, 1959-64, single carb No AUC 929,976
FS 0050
*
*
£27.27
FUEL SYST
Float, SU H4, 1498, Ril 1.5, twin carb No AUC 864
FS 0383
*
*
*
£45.32
FUEL SYST
Float, SU H4, 1498, Ril 1.5, twin carb No AUC 870 (brass float)
FS 0166
*
*
*
£47.91
FUEL SYST
Gasket set, H4, SU carb (1 gasket set per carb) Ril 1.5, MK1, 2, 3
FS 0165
*
*
*
£21.86
FUEL SYST
Gasket set, HS & HS2 SU carb (1 gasket set per carb) Wol 1500 MK1,2,3
FS 0002
*
*
*
£8.29
FUEL SYST
Jet, H4 SU carb, Ril 1.5 MK1,2,3
FS 0384
*
*
*
£20.69
FUEL SYST
Jet, HS & HS2 SU carb, Wol 1500 1957-58, single carb, carb No AUC 813,855
FS 0384
*
£20.69
FUEL SYST
Jet, HS & HS2 SU carb, Wol 1500 1959-64, single carb, carb No AUC 929,976
FS 0049
*
*
£33.78
FUEL SYST
Lid & float ASSY, HS2, carb, replacing brass float
FS 0263
£71.91
FUEL SYST
Needle & seat, H2 & HS2, single carbs, Wol 1500 MK1, 2, 3
FS 0108
*
*
*
£25.77
FUEL SYST
Needle & seat, H4, twin carbs, Ril 1.5, 1957-62
FS 0168
*
*
*
£26.51
FUEL SYST
Needle, SU H2, 1489, needle EB Wol 1500, 1957-58, carb No AUC813,855
FS 0344
*
£15.05
FUEL SYST
Needle, SU H4, 1489, needle AD, Ril 1.5, 1957-62, carb No AUC 864,870
FS 00
*
*
*
£14.71
FUEL SYST
Needle, SU HS2, 1489, needle GY, Wol 1500, 1962-64, carb No AUC 976
FS 0065
*
*
£14.71
FUEL SYST
Needle, SU HS2, 1489, needle M, Wol 1500, 1959-62, carb No AUC 929
FS 0203
*
£14.71
FUEL SYST
Pedal rubber, accelerator
FS 0137
*
*
*
*
*
*
£9.77
FUEL SYST
Pipe, petrol pipe kit front & rear half & pump to tank, Wol 1500, Ril 1.5
£111.94
FUEL SYST
Pipe, petrol pipe, tank to pump, Wol 1500, Ril 1.5
£31.61
FUEL SYST
Pipe, petrol pipe,pump to carb, front half, Wol 1500, Ril 1.5
£50.04
FUEL SYST
Pipe, petrol pipe,pump to carb, rear half, Wol 1500, Ril 1.5
£50.04
FUEL SYST
Pump, petrol electric SU , NEW (type inlet & outlet plastic)
FS 0074
*
*
*
*
£190.00
FUEL SYST
Pump, petrol, electronic, SU, negative earth, NEW but excharge
FS 0376
*
*
*
*
£170.00
FUEL SYST
Pump, petrol, electronic, SU, positive earth, NEW but excharge
FS 0265
*
*
*
*
£170.00
FUEL SYST
Pump, petrol, electronic, SU, surcharge
FS 0377
*
*
*
*
£21.82
FUEL SYST
Repair kit, fuel pump, SU, electrical (points)
FS 0075
*
*
*
*
*
*
£43.05
Gearbox Manual
GEARBOX
Ball bearing, 1st motion shaft fr(fr main bearing)
GB 0079
*
*
*
*
*
*
£34.47
GEARBOX
Ball bearing, 3rd motion shaft re(re main bearing)
GB 0080
*
*
*
*
*
*
£32.02
GEARBOX
Ball, synchronizer hub (use with synch spring)
GB 0060
*
*
*
*
*
*
£1.85
GEARBOX
Bearing needle roller, 1st motion (QTY REQ 18)
GB 0081
*
*
*
*
*
*
£1.10
GEARBOX
Bearing, cage roller(layshaft petrol 3 holes)REQ 3
GB 0074
*
*
*
*
*
*
£19.65
GEARBOX
Bearing, cage roller(layshaft petrol 4 holes)REQ 3
GB 0073
*
*
*
*
*
*
£17.18
GEARBOX
Buffer, stay bar
GB 0014
*
*
*
*
*
*
£4.14
GEARBOX
Bush, gear lever, (nylon)
GB 0045
*
*
*
*
*
*
£12.24
GEARBOX
Bush, stay bar
GB 0013
*
*
*
*
*
*
£2.37
GEARBOX
Gaiter, clutch fork, gearbox
GB 0044
*
*
*
*
*
*
£8.92
GEARBOX
Gaiter, gear lever A55MK1&2/MO5/Wol 1500/15/60 etc
GB 0001
*
*
*
*
*
*
£25.76
GEARBOX
Gasket set, gearbox all models
GB 0085
*
*
*
*
*
*
£10.49
GEARBOX
Gasket, front cover (front oil seal)
GB 0050
*
*
*
*
*
*
£2.37
GEARBOX
Gasket, gearbox to rear extension
GB 0049
*
*
*
*
*
*
£1.96
GEARBOX
Gasket, side cover
GB 0048
*
*
*
*
*
*
£1.96
GEARBOX
Gear, for use with speedo drive pinion
GB 0086
*
*
*
*
*
*
£32.02
GEARBOX
Gear, reverse
GB 0078
*
*
*
*
*
*
£47.91
GEARBOX
Gearbox, recond exch Wol 1500, Ril 1.5,floor change
GB 0145
*
*
*
*
*
*
£508.06
GEARBOX
Gearbox, surcharge
GB 0098
*
*
*
*
*
*
£256.31
GEARBOX
Layshaft, petrol 3 holes
GB 0071
*
*
*
*
*
*
£61.51
GEARBOX
Layshaft, petrol 4 holes
GB 0072
*
*
*
*
*
*
£61.51
GEARBOX
Mounting kit, 2 mounts noon shape, 2 buffer&bushes
GB 0150
*
*
*
*
*
*
£34.47
GEARBOX
Mounting kit, 2 mountsSQ,2 stay bar buffers&bushes
GB 0131
*
*
*
*
*
*
£26.95
GEARBOX
Mounting, gearbox (SQ shape) A40,55,110,Wol1500etc
GB 0040
*
*
*
*
*
*
£9.77
GEARBOX
Mounting, gearbox half moon shape) Wol 1500/Ril 1.5
GB 0103
*
*
*
*
*
*
£11.22
GEARBOX
Ring baulk, brass 2nd speed gear
GB 0082
*
*
*
*
*
*
£44.02
GEARBOX
Ring baulk, brass 3nd & 4th speed gear
GB 0084
*
*
*
*
*
*
£44.02
GEARBOX
Ring baulk, steel 2nd speed gear
GB 0083
*
*
*
*
*
*
£71.92
GEARBOX
Seal, oil, gearbox, fr, Wol 1500, Ril 1.5, etc
GB 0042
*
*
*
*
*
*
£11.89
GEARBOX
Seal, oil, gearbox, re, (petrol) Wol 1500, Ril 1.5,etc
GB 0046
*
*
*
*
*
*
£11.89
GEARBOX
Seal, oil, speedo drive drive
GB 0037
*
*
*
*
*
*
£9.48
GEARBOX
Spring, synchronizer hub (use with synch ball)
GB 0129
*
*
*
*
*
*
£2.29
Ignition
IGNITION
Barrel & key,(ignition switch)11/13MK1/2,A40,A55etc
IG 0047
*
*
*
*
*
*
£17.78
IGNITION
Cap, distrib, (screw type) Wol 1500, Ril 1.5
IG 0004
*
*
*
*
£27.68
IGNITION
Cap, distrib, 25D, (push in) Wol 1500, Ril 1.5
IG 0005
*
*
£14.32
IGNITION
Coil, ignition, (push in type)
IG 0018
*
*
*
*
*
*
£40.66
IGNITION
Coil, ignition, (screw type)
IG 0082
*
*
*
*
*
*
£39.07
IGNITION
Condenser, 25D
IG 0013
*
*
*
*
*
*
£7.15
IGNITION
Contact set, 25D, Wol1500, Ril 1.5, etc
IG 0002
*
*
*
*
*
*
£7.79
IGNITION
Distrib, HC recond exch Wol 1500 1960-63
IG 0058
*
*
*
£180.11
IGNITION
Distributor, HC recond exch Wol 1500 1964-65
IG 0059
*
*
*
*
*
*
£180.11
IGNITION
Distributor, HL recond exch RIL 1.5
IG 0057
*
*
*
£180.11
IGNITION
Distributor, surcharge all models 1500cc & 1622 cc
IG 0042
*
*
*
*
*
*
£60.04
IGNITION
H.T.lead set, (push in type) from 1966 onward
IG 0043
*
*
*
*
*
*
£28.33
IGNITION
H.T.lead set, (screw type) from 1958 to 1966
IG 0044
*
*
*
*
£26.66
IGNITION
Lead, low tension connector 25D distributor allmdl
IG 0045
*
*
*
*
*
*
£11.89
IGNITION
Rotor arm, (distributor)
IG 0007
*
*
*
*
*
*
£6.62
IGNITION
Service kit, 25D, H.T. Lead set, dis cap, contact set, condenser, rotor arm, 4 plugs, dis cap push in type
*
*
£44.23
IGNITION
Service kit, 25D, H.T. Lead set, dis cap, contact set, condenser, rotor arm, 4 plugs, dis cap screw type
*
*
*
*
£44.23
IGNITION
Spark plug, champion
IG 0021
*
*
*
*
*
*
£4.18
IGNITION
Vacuum unit, distributor HC all saloon models
IG 0040
*
*
*
*
*
*
£46.35
Internal Trim
INT TRIM
Carpet set, car Wol 1500, Ril 1.5, black
IT 0054
*
*
*
*
*
*
£260.72
INT TRIM
Carpet set, car Wol 1500, Ril 1.5, cardinal red
IT 0057
*
*
*
*
*
*
£260.72
INT TRIM
Carpet set, car Wol 1500, Ril 1.5, grey
IT 0056
*
*
*
*
*
*
£260.72
INT TRIM
Carpet set, car Wol 1500, Ril 1.5, light green
IT 0053
*
*
*
*
*
*
£260.72
INT TRIM
Carpet set, car Wol 1500, Ril, 1.5 wedgewood blue
IT 0055
*
*
*
*
*
*
£260.72
INT TRIM
Clip, interior door panel, (fr door 17 re door 12)
IT 0052
*
*
*
*
*
*
£0.84
INT TRIM
Edge trim & seal, fr dr aperture, beige
IT 0113
*
*
*
*
*
*
£72.68
INT TRIM
Edge trim & seal, fr dr aperture, green
IT 0117
*
*
*
*
*
*
£72.68
INT TRIM
Edge trim & seal, fr dr aperture, grey
IT 0115
*
*
*
*
*
*
£72.68
INT TRIM
Edge trim & seal, fr dr aperture, red
IT 0114
*
*
*
*
*
*
£72.68
INT TRIM
Edge trim & seal, fr dr aperture, tan (brown)
IT 0111
*
*
*
*
*
*
£72.68
INT TRIM
Edge trim & seal, re dr aperture, beige
IT 0112
*
*
*
*
*
*
£65.56
INT TRIM
Edge trim & seal, re dr aperture, green
IT 0116
*
*
*
*
*
*
£65.56
INT TRIM
Edge trim & seal, re dr aperture, grey
IT 0118
*
*
*
*
*
*
£65.56
INT TRIM
Edge trim & seal, re dr aperture, red
IT 0109
*
*
*
*
*
*
£65.56
INT TRIM
Edge trim & seal, re dr aperture, tan (brown)
IT 0110
*
*
*
*
*
*
£65.56
INT TRIM
Fastener, carpet, clip, stud, fastener & pop rivet
IT 0030
*
*
*
*
*
*
£3.07
INT TRIM
Felt, soundproofing felt kit for under carpet
IT 0037
*
*
*
*
*
*
£95.93
INT TRIM
Seat, belt, front, automatic
£109.47
INT TRIM
Seat, belt, rear, automatic
£106.84
Lamps
LAMPS
Body, headlamp, for bulb tyre, Special price for 2, Wol 1500, Ril 1.5
LP 0
*
*
*
*
£33.40
LAMPS
Body, headlamp, for bulb tyre, Wol 1500, Ril 1.5
LP 0142
*
*
*
*
£20.88
LAMPS
Body, headlamp, sealed beam type (Bobbies helmet) with adjuster kit, Wol 1500, Ril 1.5
LP 0009
*
*
*
*
£18.84
LAMPS
Body, headlamp, sealed beam type, with adjuster kit, Special price for 2, Wol 1500, Ril 1.5
LP 0
*
*
*
£30.93
LAMPS
Bulb, headlamp bulb, Wol 1500, Ril 1.5, STD
LP 0139
*
*
*
*
£11.15
LAMPS
Gasket, headlamp rubber gasket Ril 1.5
LP 0179
*
*
*
£12.61
LAMPS
Gasket, headlamp rubber gasket Wol 1500
LP 0177
*
*
*
£12.61
LAMPS
Headlamp assy, bulb type
*
*
*
*
£105.86
LAMPS
Headlamp assy, seal beam type
LP 0012
*
*
*
*
£117.56
LAMPS
Lamp assy, courtesy lamp farina models
LP 0151
*
*
*
*
*
*
£35.92
LAMPS
Lamp assy, fr, flasher & sidelamp Wol 1500, Ril 1.5 MK3
LP 0170
*
*
£61.66
LAMPS
Lamp assy, number plate lamp, Wol 1500
LP 0180
*
*
*
£46.10
LAMPS
Lamp assy, re, flasher & stop/tail, Wol 1500 MK3
LP 0185
*
*
£119.95
LAMPS
Lamp base, fr, flasher & side lamp, Wol 1500, Ril 1.5 MK3
LP 0207
*
*
£31.11
LAMPS
Lens, courtesy lamp, interior
LP 0002
*
*
*
*
*
*
£9.48
LAMPS
Lens, fr, flasher & side lamp, Wol 1500,Ril 1.5 MK3
LP 0210
*
*
£26.30
LAMPS
Lens, fr, flasher amber lamp, Ril 1.5 MK1 & 2 R-H or L-H
LP 0175
*
*
£43.55
LAMPS
Lens, fr, flasher side lamp, Wol 1500 MK1 & 2 R-H or L-H
LP 0173
*
*
£40.78
LAMPS
Lens, re, flasher, Wol 1500 & Ril1.5 MK3
LP 0029
*
*
*
*
£35.92
LAMPS
Lens, re, stop & tail, Wol 1500 & Ril MK3
LP 0028
*
*
*
*
£35.92
LAMPS
Light unit, h/lamp, bulb type R-H-Dr A35,A55,W15,etc
LP 0140
*
*
£47.91
LAMPS
sealed beam, light unit for headlamp, R-H drive, ONLY
LP 0015
*
*
*
*
£21.76
LAMPS
Sealed beam, light unit for headlamp, R-H drive, ONLY, SPECIAL PRICE for 2
LP 00
*
*
*
*
£32.63
Nuts and bolts
NUTS & BOLTS
Nut, nylon lock nut steel zinc/hex 1/4'UNF
NB 0029
*
*
*
*
*
*
£1.42
NUTS & BOLTS
Nut, nylon lock nut steel zinc/hex 3/8'UNF
NB 0025
*
*
*
*
*
*
£1.88
NUTS & BOLTS
Nut, nylon lock nut steel zinc/hex 5/16'UNF
NB 0024
*
*
*
*
*
*
£1.60
NUTS & BOLTS
Nut, nylon lock nut steel zinc/hex 7/16'UNF
NB 0026
*
*
*
*
*
*
£2.31
NUTS & BOLTS
Nut, plain steel zinc/hex 1/4'UNF
NB 0017
*
*
*
*
*
*
£0.24
NUTS & BOLTS
Nut, plain steel zinc/hex 3/8'UNF
NB 0002
*
*
*
*
*
*
£0.43
NUTS & BOLTS
Nut, plain steel zinc/hex 5/16'UNF
NB 0008
*
*
*
*
*
*
£0.36
NUTS & BOLTS
Nut, plain steel zinc/hex 7/16'UNF
NB 0003
*
*
*
*
*
*
£0.50
NUTS & BOLTS
Set screw, H/tensile steel zinc/hex 1/4'UNF x 1'
NB 0018
*
*
*
*
*
*
£0.72
NUTS & BOLTS
Set screw, H/tensile steel zinc/hex 1/4'UNF x 1/2'
NB 0015
*
*
*
*
*
*
£0.50
NUTS & BOLTS
Set screw, H/tensile steel zinc/hex 1/4'UNF x 3/4'
NB 0023
*
*
*
*
*
*
£0.59
NUTS & BOLTS
Set screw, H/tensile steel zinc/hex 3/8'UNF x 1'
NB 0021
*
*
*
*
*
*
£0.72
NUTS & BOLTS
Set screw, H/tensile steel zinc/hex 3/8'UNFx1.1/2'
NB 0022
*
*
*
*
*
*
£0.68
NUTS & BOLTS
Set screw, H/tensile steel zinc/hex 5/16'UNF x 1'
NB 0020
*
*
*
*
*
*
£0.59
NUTS & BOLTS
Set screw, H/tensile steel zinc/hex 5/16'UNFx 3/4'
NB 0019
*
*
*
*
*
*
£0.63
NUTS & BOLTS
Washer, flat steel zinc ID 1/4'
NB 0012
*
*
*
*
*
*
£0.04
NUTS & BOLTS
Washer, flat steel zinc ID 3/8'
NB 0001
*
*
*
*
*
*
£0.08
NUTS & BOLTS
Washer, flat steel zinc ID 5/16'
NB 0013
*
*
*
*
*
*
£0.12
NUTS & BOLTS
Washer, spring H/D steel zinc ID 1/4'
NB 0006
*
*
*
*
*
*
£0.12
NUTS & BOLTS
Washer, spring H/D steel zinc ID 3/16'
NB 0005
*
*
*
*
*
*
£0.04
NUTS & BOLTS
Washer, spring H/D steel zinc ID 3/8'
NB 0014
*
*
*
*
*
*
£0.10
NUTS & BOLTS
Washer, spring H/D steel zinc ID 5/16'
NB 0007
*
*
*
*
*
*
£0.09
NUTS & BOLTS
Washer, spring H/D steel zinc ID 7/16'
NB 0009
*
*
*
*
*
*
£0.14
Propshaft
PROPSHAFT
Bolt & locking nut, propshaft, W1500, Ril 1.5, etc
PS 0017
*
*
*
*
*
*
£2.38
PROPSHAFT
Propshaft, recon exch, Wol 1500, Ril 1.5
PS 0015
*
*
*
*
*
*
£119.94
PROPSHAFT
Propshaft, surcharge, Wol 1500, Ril 1.5
PS 0016
*
*
*
*
*
*
£84.06
PROPSHAFT
U/J joint, with grease nipple (propshaft)
PS 0002
*
*
*
*
*
*
£16.70
Speedo
SPEEDO
Cable, speedo Ril 1.5 MK 2 & 3, 4/1959-3/1962 (66')
SP 0039
*
*
£29.00
SPEEDO
Cable, speedo Ril 1.5 MK1, 1957-3/1959 (63')
SP 0036
*
£23.79
SPEEDO
Cable, speedo Wol 1500 MK 1 1957-1959 (57')
SP 0038
*
£23.79
SPEEDO
Cable, speedo Wol 1500 MK 2, 4/1959-3/1962 (60')
SP 0041
*
£23.79
SPEEDO
Cable, speedo Wol 1500 MK 3, 4/1962-1965 (63')
SP 0040
*
£23.79
Steering
STEERING
Bush, top of column NEW plastic type long life
ST 0025
*
*
*
*
*
*
£10.63
STEERING
Gaiter, steering rack all models QTY REQ 2
ST 0064
*
*
*
*
*
*
£14.29
STEERING
Rack, recond, exch, R-H drive, Wol 1500, Ril 1.5
ST 0125
*
*
*
*
*
*
£211.65
STEERING
Rack, surcharge, Wol 1500, Ril 1.5
ST 0126
*
*
*
*
*
*
£60.04
STEERING
Track rod ends, Wol 1500, Riley 1.5, R-H or L-H, R. H. THREAD 5/8
ST 0053
*
*
*
*
*
*
£12.34
STEERING
Track rod ends, Wol 1500, Riley 1.5, SPECIAL PRICE FOR 2 TRACK ROD ENDS
ST
*
*
*
*
*
*
£23.40
Suspension Front
SUSP FR
Bearing kit, front hub Wol 1500, Ril 1.5
SUF 134
*
*
*
*
*
*
£27.78
SUSP FR
Bolt & locking nut, tie rod
SUF 329
*
*
*
*
*
*
£5.03
SUSP FR
Buffer, fr, lower, shock absorber, R-H or L-H
SUF 158
*
*
*
*
*
*
£16.70
SUSP FR
Buffer, fr, upper link, R-H or L-H
SUF 148
*
*
*
*
*
*
£26.64
SUSP FR
Buffer, fr, upper link, Special for 2 buffers
SUF
*
*
*
*
*
*
£47.99
SUSP FR
Bush kit, fr, suspension, 4 upper link bushes, 4 eye bolt bushes, 4 tie rod bushes
SUF 156
*
*
*
*
*
*
£17.40
SUSP FR
Bush kit, fr, suspension, 4 upper link bushes, 4 eye bolt bushes, 4 tie rod bushes 12 shackle bushes
*
*
*
*
*
*
£29.64
SUSP FR
Bush, fr, eyebolt, 2 per eyebolt, R-H or L-H
SUF 157
*
*
*
*
*
*
£1.94
SUSP FR
Bush, fr, tie rod, 2 per tie rod, R-H or L-H
SUF 155
*
*
*
*
*
*
£1.94
SUSP FR
Bush, fr, upper link, 2 per side R-H or L-H
SUF 156
*
*
*
*
*
*
£1.94
SUSP FR
Bush, inner side lower swivel joint,
SUF
*
*
*
*
*
*
£2.86
SUSP FR
Link, lower, L-H, of swivel pin assy, Wo1500&Ri1.5
SUF 168
*
*
*
*
*
*
£53.80
SUSP FR
Link, lower, R-H, of swivel pin assy, Wo1500&Ri1.5
SUF 167
*
*
*
*
*
*
£53.80
SUSP FR
Link, upper, L-H, of swivel pin assy, Wo1500&Ri1.5
SUF 170
*
*
*
*
*
*
£53.80
SUSP FR
Link, upper, R-H, of swivel pin assy, Wo1500&Ri1.5
SUF 169
*
*
*
*
*
*
£53.80
SUSP FR
Nut, front hub, L-H-T
*
*
*
*
*
*
£8.58
SUSP FR
Nut, front hub, R-H-T
*
*
*
*
*
*
£8.58
SUSP FR
Pin, fulcrum, lower, inner, to eye bolt
SUF 175
*
*
*
*
*
*
£4.69
SUSP FR
Pin, fulcrum, lower, outer, link swivel joint, bottom
SUF 176
*
*
*
*
*
*
£12.61
SUSP FR
Pin, fulcrum, upper, link swivel joint, (to shocker)
SUF 174
*
*
*
*
*
*
£14.29
SUSP FR
Seal, lower swivel joint, to lower arm, (front or rear of swinvel joint)
SUF
*
*
*
*
*
*
£2.99
SUSP FR
Seal, oil fr wheel hub Wol 1500, Ril 1.5
SUF 149
*
*
*
*
*
*
£7.10
SUSP FR
Seal, upper & lower swivel joint to swivel pin,
SUF
*
*
*
*
*
*
£3.76
SUSP FR
Shock absorber, fr, recond, exch, L-H, all models
SUF 165
*
*
*
*
*
*
£61.82
SUSP FR
Shock absorber, fr, recond, exch, R-H, all models
SUF 166
*
*
*
*
*
*
£61.82
SUSP FR
Shock absorber, fr, surcharge, R-H or L-H, all models
SUF 164
*
*
*
*
*
*
£50.82
SUSP FR
Stud, wheel stud, fr, Wol 1500, Ril 1.5
SUF 239
*
*
*
*
*
*
£4.69
SUSP FR
Tie rod, fr, 1 per side R-H or L-H
SUF 154
*
*
*
*
*
*
£79.13
Suspension Rear
SUSP RE
Bearing kit, half shaft rear, Wo1500, Ril 1.5
SUR 106
*
*
*
*
*
*
£14.53
SUSP RE
Buffer, re, axle, 1 per spring
SUR 103
*
*
*
*
*
*
£19.10
SUSP RE
Bush, re, shackle, front or rear of spring, 6 per spring
SUR 113
*
*
*
*
*
*
£1.94
SUSP RE
Bush, re, shackle, front or rear of spring, Special for 12 shackle bushes
SUR
*
*
*
*
*
*
£16.73
SUSP RE
Gasket, re, half shaft, Wol 1500, Ril 1.5
SUR 124
*
*
*
*
*
*
£2.38
SUSP RE
Link, re, shock absorber surcharge, R-H or L-H
SUR 130
*
*
*
*
*
*
£35.92
SUSP RE
Link, re, shock absorber to spring, R-H or L-H
SUR 131
*
*
*
*
*
*
£71.01
SUSP RE
Nut, retaining hub bearing, LHT, Wol 1500, Ril 1.5
SUR 125
*
*
*
*
*
*
£13.20
SUSP RE
Nut, retaining hub bearing, RHT, Wol 1500, Ril 1.5
SUR 126
*
*
*
*
*
*
£13.20
SUSP RE
O ring, seal, re, half shaft, Wol 1500, Ril 1.5
SUR 128
*
*
*
*
*
*
£4.62
SUSP RE
Pad, seating, rear spring to axle, 2 per spring(rubber
SUR 108
*
*
*
*
*
*
£1.88
SUSP RE
Pin, rear spring, front of spring, 1 per spring
SUR 112
*
*
*
*
*
*
£5.96
SUSP RE
Pin, shackle pin, rear of rear spring to shackle,
SUR 114
*
*
*
*
*
*
£4.26
SUSP RE
Plate, rear spring, front of spring, 1 per spring
SUR 111
*
*
*
*
*
*
£9.48
SUSP RE
Plate, rear, spring to U bolts, 2 per spring
SUR 109
*
*
*
*
*
*
£11.89
SUSP RE
Plate, shackle re, spring to shackle,
SUR 115
*
*
*
*
*
*
£4.18
SUSP RE
Seal kit, SPECIAL PRICE FOR 1 rear hub oil seal, 1 O ring & 1 halfshaft gasket
SUR
*
*
*
*
*
*
£5.08
SUSP RE
Seal, oil re wheel hub, Wol 1500, Ril 1.5
SUR 104
*
*
*
*
*
*
£4.62
SUSP RE
Shock absorber, re, recond, exch, L-H, all models
SUR 132
*
*
*
*
*
*
£61.82
SUSP RE
Shock absorber, re, recond, exch, R-H, all models
SUR 133
*
*
*
*
*
*
£61.82
SUSP RE
Shock absorber, re, surcharge, R-H or L-H, all models
SUR 129
*
*
*
*
*
*
£50.82
SUSP RE
Spring, leaf re, No of leaves 7
SUR 110
*
*
*
*
*
*
£174.53
SUSP RE
Stud, wheel stud, rear
SUR 175
*
*
*
*
*
*
£4.76
SUSP RE
U bolt, re, spring to axle, 2 per spring
SUR 107
*
*
*
*
*
*
£9.00
SUSP RE
Washer-locking, re, hub, Wol 1500, Ril 1.5
SUR 127
*
*
*
*
*
*
£2.18
Wheels
WHEELS
Cap, hub cap, RILEY 1.5
WH 0004
*
*
*
£38.30
WHEELS
Cap, hub cap, WOL 1500
WH 0015
*
*
*
£47.91
WHEELS
Nut, wheel nut
WH 0031
*
*
*
*
*
*
£2.64
WHEELS
Stud wheel
WH 0004
£4.36
Windscreen
WINDSCREEN
Arm, wiper park on R-H side, Wol 1500, Ril 1.5
WS 0067
*
*
*
*
*
*
£28.69
WINDSCREEN
Blade, wiper blade, Wol 1500, Ril 1.5
WS 0072
*
*
*
*
*
*
£23.88
WINDSCREEN
Cable, wheel box to wiper motor Wol 1500 & Ril 1.5
WS 0089
*
*
*
*
*
*
£35.92
WINDSCREEN
Gun, for windscreen sealer cartridge
WS 0052
*
*
*
*
*
*
£15.00
WINDSCREEN
Heater kit, for heated rear window
WS 0186
£52.28
WINDSCREEN
Nut, wheel box (chrome)
WS 0099
*
*
*
*
*
*
£4.62
WINDSCREEN
Pump, washer pump electrical with bracket(NON STD)
WS 0080
*
*
*
*
*
*
£41.17
WINDSCREEN
Rubber, front, windscreen, (original type) of the roll
WS 0084
*
*
*
*
*
*
£52.38
WINDSCREEN
Rubber, rear, windscreen, all models, of the roll
WS 0085
*
*
*
*
*
*
£57.74
WINDSCREEN
Sealer, for windscreen per cartridge
WS 0036
*
*
*
*
*
*
£9.48
WINDSCREEN
Tee, piece use with windscreen washer tube
WS 0070
*
*
*
*
*
*
£2.64
WINDSCREEN
Tool, for fitting windscreen mouldings into rubber
WS 0086
*
*
*
*
*
*
£40.34
WINDSCREEN
Trim, front or rear windscreen trim, NOT original
WS 0122
*
*
*
*
*
*
£15.20
WINDSCREEN
Tube, windscreen washers PER MTR QTY REQ 3 mtrs
WS 0057
*
*
*
*
*
*
£2.93
WINDSCREEN
Windscreen, fr, laminated Wol 1500, Ril 1.5
WS 00
*
*
*
*
*
*
£708.96
Back to Top